Social Shopping: Nuji Brings Product Curation to Mobile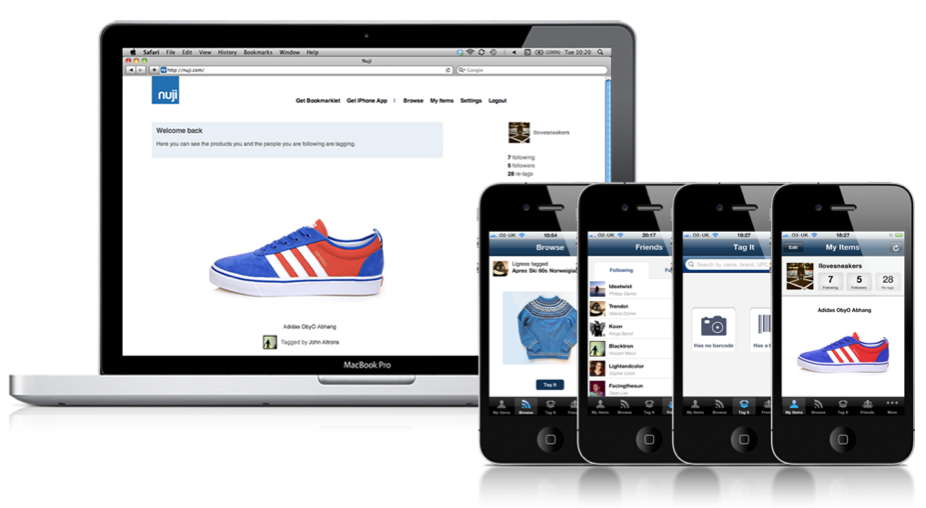 Social shopping has been heating up over the past few years and got a big boost from Facebook's Open Graph API and Like button this year. The most exciting services in the space are taking the trend offline, letting you "like" products you see in retails stores as well as online. A new company called Nuji, launching today at Le Web in Paris, takes this approach. By combining Svpply-like curation with the social barcode-scanning aspect of Stickybits, they are hoping to build a "shopping mall curated by people whose taste you admire."
After meeting with them in New York recently, we conducted an email interview with co-founders Vincent Thome and Dean Frankhauser.
What problems are you trying to solve with this service?
We're trying to solve two problems:
1. We are creating a shopping social graph, leading to a more targeted, fun and interesting product discovery experience.
Your friends on Facebook are generally your real friends from college, work etc. and may not have the same taste as you in regards to clothes, music, films or gadgets. Twitter is great for following people with similar interests to you, but again, they may not have the same taste in products as you do. There's a need for a shopping social graph, linking people with similar tastes in products.
2. We will provide deals on products that people actually want.
Today, Groupon offers you a deal on a pedicure because you live in a certain city and Foursquare a free coffee because you have checked into a cafe enough times. However, you may not want a pedicure and you might not like coffee, so essentially it's still advertising. Nuji offers deals only on the products you have explicitly said you want, making the service a utility, not an advertisement. Product discovery is the primary function of Nuji, deals is just an added bonus.
What is the user experience like - both online and via mobile?
You can tag (bookmark) products you like on your mobile or on the web.
To tag a product on your phone, you can scan the barcode of the product, or if it doesn't have a barcode, you can take a picture and enter some basic information.
To tag a product on the web, we created a bookmarklet that you click when you see something you like. Nuji confirms the product you want to tag and automatically aggregates the relevant product information, so there's no need to enter any details.
Once you tag something with Nuji, it is synced with your profile, making it simple to remember and share with your followers. People that follow you on Nuji can see the products you're discovering in real-time on their feed and choose to re-tag the ones they like, potentially making some products viral.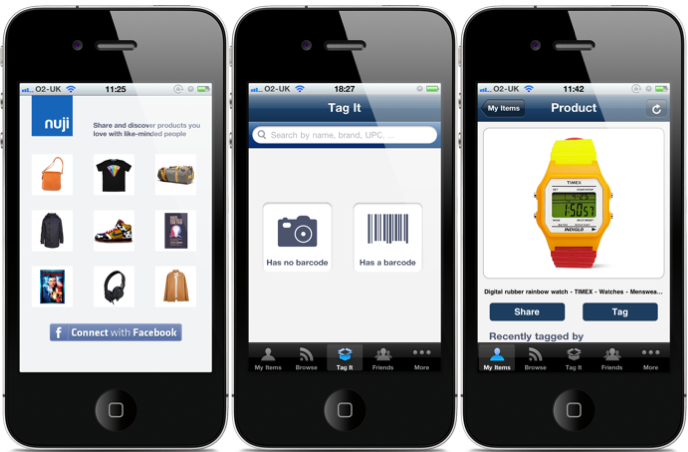 How are you building your database of products?
Sorry, we have to keep some secrets as secrets:)
Are you looking to become a destination site?
Yes. We want to be the go-to place whenever you're looking for a new winter jacket, a TV, a film to watch or a new album to listen to. We think it will be like a shopping mall, curated by people whose taste you admire.
Can you describe your business model?
Currently, it's similar to Groupon. For every deal that's redeemed, we receive a fee. We want to end up with something that works best for Nuji users, so we're currently trialling a few models with a few brand partners such as Levis.
What are the opportunities for brands and advertisers right now? In the future?
We can introduce new products to Nuji users and if the community takes to them, they can become popular within the Nuji network and beyond. We want to refrain from doing this too much, but if the product is a good fit for particular users, we're happy to suggest it. We can also help drive people to online and offline retail stores by offering deals on popular items.
Social shopping is fast become a very hot space. What are you most excited about? Most nervous about?
We're most excited about the prospect of product discovery becoming more targeted, interesting and fun. We're excited about recommendations being based on people, rather than computer algorithms and cookies tracking people's surfing habits. We think this approach is infinitely more powerful and we're only beginning to scratch the surface of its potential.
Social shopping is a hot area, both for new start-ups and large companies. They have a lot at stake and no one will want to be second best. Every startup faces this problem, so it won't hold us back.
This post is presented in partnership with PSFK, a trends and innovation company that publishes a daily news site, provides trends research and innovation consultancy and hosts idea-generating events.