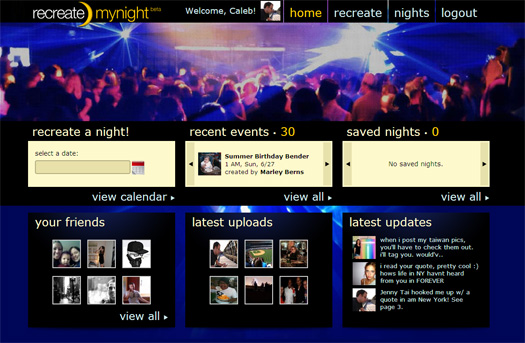 RecreateMyNight is a new service that lets users collectively reconstruct and relive the concert experience using social networks like Facebook and Twitter. It harnesses lifestreaming behavior to generate content around past events.
When fans log on they will see a dashboard where they can click on any concert night to view its recreation or add more media. The website is an advanced social media platform providing users with the ability to view and add content such as video, photos, and status updates. As they travel the country, [a] band will be growing its digital scrapbook by inviting fans to log on and share media.
Yesterday, we saw how text messaging has acted as a "connective tissue for society" during World Cup games. Given the permanence of digital content, we are able to then look back and replay conversation around a given match. Mobile users are actively collecting photos and video during live events in order to remember later.
Today, that content doesn't just sit at home, it is published on sites like Facebook and Flickr. Last fall we observed how concert-goers often waited until the next day to upload and share videos on YouTube. This creates a new morning-after primetime and a behavior that services like RecreateMyNight and SuperGlued bank on.
There is huge potential for brands and artists to participate and enable users in this space. Orange presents a great example with GlastoTag. They provide a 1.3 giga-pixel photo of the crowd at Glastonbury Festival and encourage users to "get tagging," or pinpoint themselves and friends in the masses. From there, Facebook integration helps spread the word via users' social graphs. This lets festival participants relive and remember the experience while also bringing Orange some love.