Want a passive-aggressive way to curb cell phone use? Take down your "no cell phone" signs and put up a painting... from Chinavision. The  company is offering remote-controlled signal-jamming technology stealthily disguised as a wall-mounted work of art.
Powerful and effective, this cell phone jammer effectively disables any cell phone and will stop all signals on the GSM, CDMA, DCS, PHS, and 3G bands without interrupting any other electronic device. With the included remote control, users can turn the device on and off for instant jamming and unjamming. Also included is sensitivity control for partial and selective blocking of any mobile phone signal.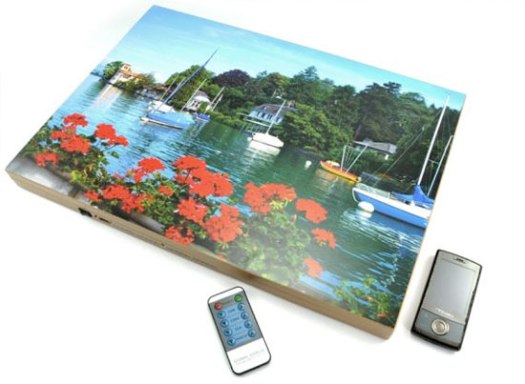 A few months ago we covered government tests of cell phone jamming in Maryland prisons. Cellphone jamming is illegal in the United States, but the law varies from country to country. Wireless technology weakens the control certain organizations once had; devices like this are attempts at restoration (for only $150!).
[via dvice]