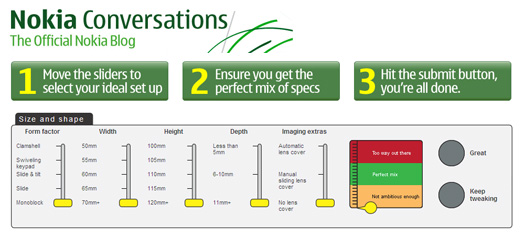 Nokia has launched a project called Design by Community that is crowdsourcing design ideas for a new smartphone device. Hosted on the Nokia Conversations blog, the company is collecting feedback about different phone characteristics.
When the user has selected their optimal configuration, they can click a "submit" button to send their choices to Nokia. The company will tabulate the results and use the information to design the new device concept. There will be several rounds during which a separate set of parameters will be put up for voting.
This project will be an interesting way for Nokia to learn about what design features people truly want from their smartphones. Collected insights will help the company produce a phone with desired features, and will determine if community-driven design is an effective method.
[via ars technica]