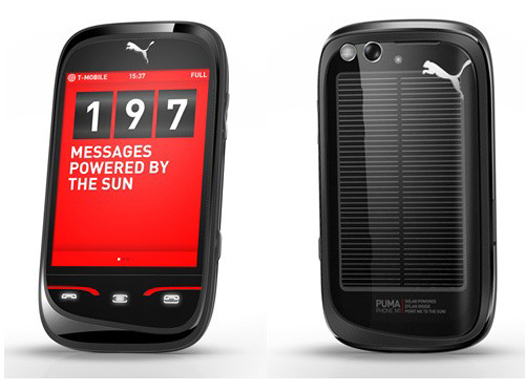 Another product launched out of this week's Mobile World Congress is a Puma branded mobile phone. Made by Sagem, it has a Java-based operating system and is geared towards the sports-savvy consumer. For those who enjoy an active lifestyle, the Puma Phone comes preloaded with a pedometer, compass, stopwatch, sports scores, and a GPS location tracker. Puma will release more apps for the device in the near future.
One of the phone's unique features is its integrated solar cell for battery charging. The rear solar panel has a small LED just above it to let users know if it has sufficient light to charge. An app on the phone keeps track of how much energy you have collected from the sun.
The phone will be available at Puma stores throughout Europe, Africa, and Asia in April of this year for the equivalent of around 400 euros. While branded phones are not an entirely new concept (see PRADA's), it is interesting to see how each brand develops a mobile offering according to the wants and needs of its consumer.
[via intomobile]