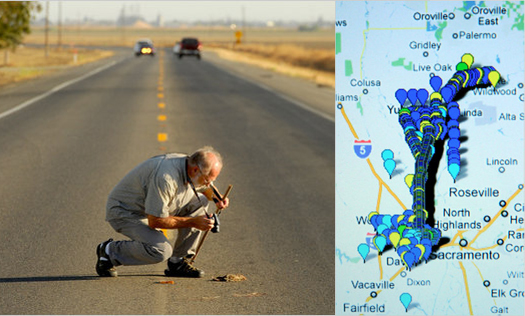 Researchers at the University of California are embracing GPS-enabled devices to help pinpoint and map local roadkill. They've created the Roadkill Observation System, a prime example of citizen science and the ability to crowdsource information using mobile phones.
According to The New York Times:
Begun a year ago, the Web site is the first statewide effort to map roadkill using citizen observers. Volunteers comb the state's highways and country roads for dead animals, collecting GPS coordinates, photographs and species information and uploading it to a database and Google map populated with dots representing the kills. The site's gruesome gallery includes photos of flattened squirrels or squashed skunks.

The site's founders hope to soon hire a software engineer to design a smartphone app. They think one would attract new and younger volunteers, speed up the process, and, with built-in GPS function, assure more accurate location information.
We first wrote about participatory sensing last November, discussing how mobile app use is helping organizations map everything from sentiment to real-time traffic reports. This same tactic has been used to track cassowaries, measure city noise levels, and locate wild-food sources. Embracing the ubiquity of networked mobile devices is something anyone in research should consider.