1. Santa Gets A Google Voice Number
"Google has set up a Google Voice number for Santa (855-34-SANTA) where you can leave the big fella a voicemail (obviously he's too busy to pick up his Nexus S). That's only half of the fun, however – Google has set up a website (sendacallfromsanta.com) where you can set up a message that will ring any number in the United States with a personalized message from Santa."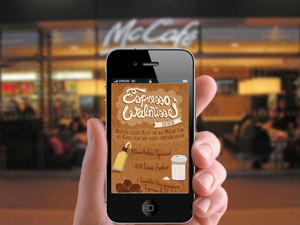 2. McDonald's McCafe Advent Calendar
"Unloqable offers access to digital content but only when users can prove their whereabouts via a location-based service like Facebook Places or Foursquare. So, as soon as they check in at a McCafé using such a platform, they will be given the option to download their gift - be it an animation, short film or piece of music."
3. Small, Cheap Devices Will Disrupt Our Old-School UX Assumptions
"These new smart devices are turning our original desktop-PC-as-hub model on its head. People used to choose between a Mac and a PC and then buy hundreds, if not thousands, of dollars of software, becoming locked into a single platform on a single device. But now there's a different model forming in which people work with multiple devices on the same data, usually through the cloud."
4. The Sampler iPhone App by Converse
"It operates on the simple premise that people like to try things out before buying them. With it, you can sample any Converse shoe from its catalog, simply by pointing your iPhone at your right leg. Using Augmented Reality to place the shoe you've chosen over your foot, it appears just as if you were wearing it. If you like what you see, you can share it on Facebook for your friend's opinions, or purchase the shoes directly from Converse's mobile web site."
5. The internet of meta-products
"The 20th century design trend 'form follows function' has rendered products that ultimately show their true nature, and are transparent in all of their functionalities. However, in the current world where technology doesn't constrain the looks of a product anymore, and where it's increasingly about the digital contents of a product, we start to see innumerous black boxes."
"The Bus Stop Derby pits 20 teams (20 San Francisco neighborhoods) against each other. So choose your neighborhood, rally your fellow commuters, and go break some high scores!  The grand prize is a concert with OK Go that takes place in the neighborhood that wins the Derby. Have fun, and may the best neighborhood win!"
7. Smart Wallets React to Electronic Spending by Refusing to Open
"Designed by a team of researchers at the MIT Media Lab, these high-tech billfolds are digitally tied to your bank account levels, reacting to any fluctuations in your current balance by shrinking in size, refusing to open, or vibrating whenever a transaction is processed."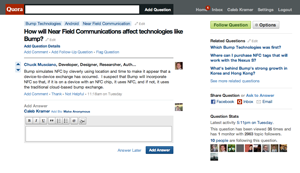 8. Quora: How will Near Field Communications affect technologies like Bump?
"Bump simulates NFC by cleverly using location and time to make it appear that a device-to-device exchange has occurred.  I suspect that Bump will incorporate NFC so that, if it is on a device with an NFC chip, it uses NFC, and if not, it uses the traditional cloud-based bump exchange."
9. Peel turns your iPhone into a universal remote -- using a wireless external IR blaster
"A little company called Peel has a dramatically different idea -- it's launching the Peel Universal Control system, which is designed to take your iPhone or iPod touch head-to-head with universal remote heavyweights like Logitech's Harmony system."
10. Polaroid Instant Camera hits the Appstore
"The idea of the new application is pretty simple – to provide users with the legendary Polaroid experience on the iPhone. In that sense, you start the app, select from four Polaroid styles (black and white, vintage, colorize and digital) and take photos old school style..."
Tweetworthy is a weekly roundup of the most shared tweets from @MobileBehavior. You can follow us on Twitter here.